Reliable.  Dependable. Yours.


Each of the knives shown below are constructed with different steels, handle material and guard/pin/bolts.
Any can be customized to your specifications, to make this YOUR knife, using your choice of steel and/or materials. Of course, actual cost may vary depending on the materials used.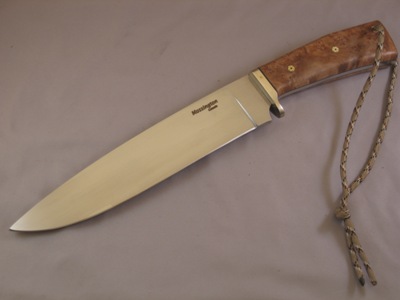 Wilderness Walker
Blade length 7 3/4″, OAL 13 1/2″.
Steel 15CM , 3/16″
Nickel Silver Guard, Golden Amboyna Burl handle, mosaic pins in guard and handle. Red liner.
A big sturdy knife.
$425
Algonquin Chief
5 3/4″ Blade, OAL 10 1/2″
154 stainless, flat grind, 5/32″ steel.
Stainless Guard and pins, thong hole. Raspberry Dymondwood handle
This particular knife has mosaic pins and black liner.
$300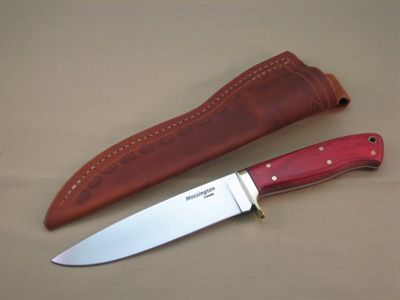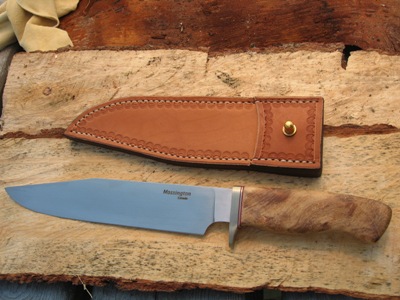 Camp Knife
5 3/4″ Blade, OAL 11″
154 stainlkess steel, 5/32″ blade flat ground.
Hidden Tang construction, Stainelss Guard with red/balck spacers. Maple burl handle.
$275
Northern Bush
A2 High Carbon 5/32″, Flat grind
Blade 5″, OAL 10 1/2″
Canary wood handle
$225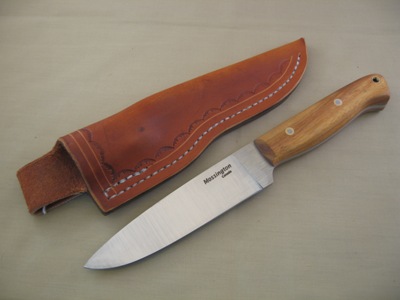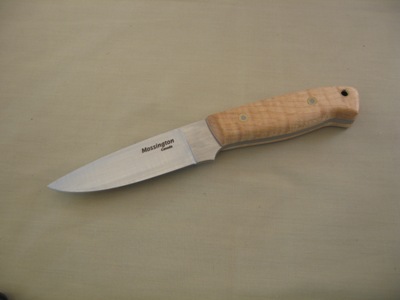 Algonquin Woods
A2 High Carbon 5/32″, Flat grind
Blade 4″, OAL 9″
Handle Curly Maple
$190
Hunters love this combination for field dressing. The hatchet is designed for getting through sinew and tendon easily (and saves smacking your good knife with a rock!!).
All are made with stainless 154CM
Hatchet 3/16″ thick, blade 3 1/4″, OAL 11″
Field dressing knife 1/8″, blade 3 1/2″, OAL 8″
Skinning knife 1/8″, blade 4 1/2″, OAL 9″
Handled in Grey/Black Dymondwood 
Cost:
Hatchet $225
Field Dresser $165
Skinner $165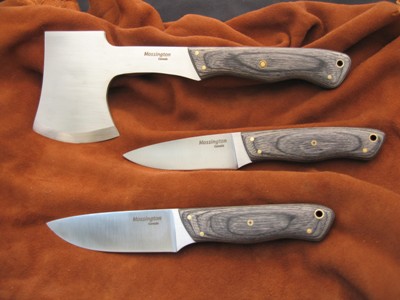 Didn't see the special knife you are looking for?
Knives in this section are the most popular of my designs, and the ones most often sought. Or the knife I dreamed up and decided to make that day!!
If you can describe, draw or show me a picture of the knife you would like, one can be made to suit you.
Email address m.mossington@sympatico.ca Or just pick up the phone 705-495-3015