Reliable.  Dependable. Yours.


Congratulations – you have finally decided to make that investment in a good, reliable knife grinder.
Your experience with small grinders with belt sizes like 2 x 24″, or 6 x 48″ have proven that those are simply not going to produce the results you want in your knife.
The Bee Knife Grinder will take you, and your knives, to that next level.
These grinders will allow easy stock removal, and power to deal with any grade of steel.
All Bee grinders use 2 x 72″ belts, the most common and easily obtainable belts, whether ceramic, aluminum oxide or zirconia, as well as the wide variety of polishing belts.
BEE Knife Grinders feature a 1 hp motor, either single speed or variable speed, solid frame housing with exhaust ports to eliminate metal dust directly to a dust collection system. In addition, the housing provides protection from grit that might impact and harm your eyes. Many grinders on the market do not afford this kind of protection.
It goes without saying, ALWAYS wear eye protection when operating ANY machines in your shop.
Standard machines come with either an 8″ or 10″ contact wheel for profiling and hollow grinding, a platen for flat grinding and a work rest for stability.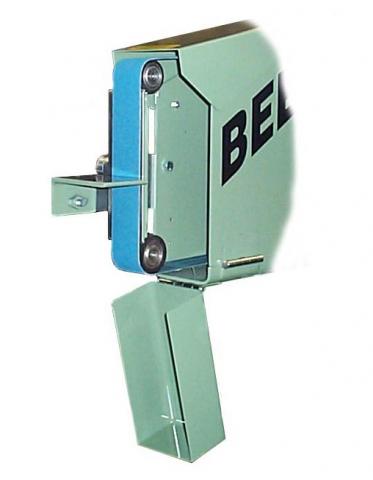 This view shows the flat platen and work rest, as well as the detachable dust collector.
The flat platen has 2 contact wheels that can be used for shaping and rounding, or for hollow grinding.
PRICING
Bee Knife Grinders begin as little as $2,250 (CAD).
Manufactured in Canada, they will provide years of consistent and reliable performance (I have had mine since 2001, and have not had one single problem with it).
Options include Variable speed motors, 1 hp and 2 hp motors, 8″ or 10″ wheels (serrated or smooth), Small Wheel Attachments (see photo below) for shaping guards and inside rounding of handle material.  With wheels and bracket – $400.00.  Also available, wheels sized  1/2″, 5/8″, 3/4″, 7/8″ and 1″ ($160.00)
And, if your existing bench space is limited, the Bee Grinder has a Heavy Duty metal base on which to work.
To discuss options and which grinder will meet your specific needs, I invite you to call – 705-495-3015 – and a grinder can be customized to fit your shop needs, and specific prices quoted.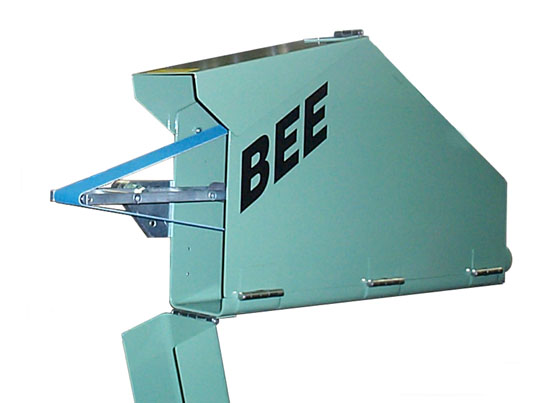 The Small Wheel Attachment is shown here. The small wheels can vary from .05″ to 1″, and are invaluable for shaping guards and inside surfaces.
This option is something that I always recommend when thinking of a new grinder – it will save hours of time in shaping and polishing.
$400.00
Actual pricing may change subject to the Manufacturers pricing, and are shown FOB the manufacturers plant in Woodstock, ON.
I will be happy to discuss your grinder needs and provide a price quote.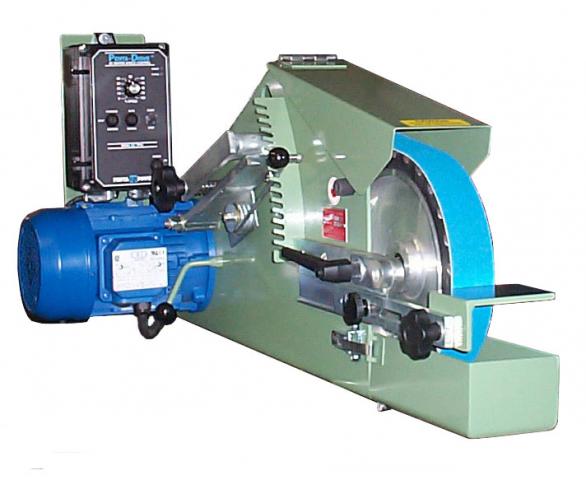 Shown here, the Bee 2 hp Variable speed grinder with 10″ serrated wheel. Price $3.560.00
With 8″ serrated contact wheel – $3,520.00
The 1 hp Variable speed motor and 8″ serrated contact wheel – $3,150.00.