Reliable.  Dependable. Yours.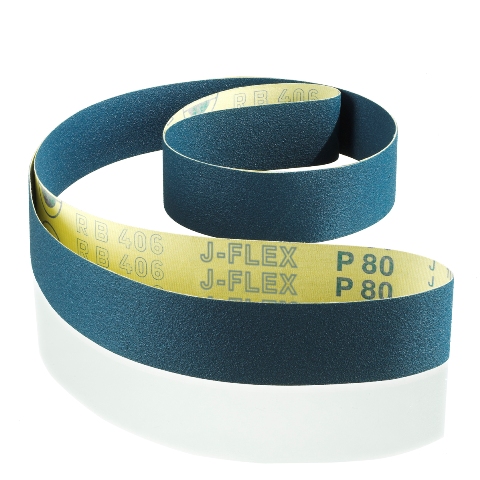 2 x 72″ Belts
Below, the most common belt sizes and types:
– Aluminum Oxide, with a soft backing (J-Flex) for smooth stock removal
– Ceramic, with a thick backing (x- and Y-Flex, very aggressive for profiling and fast removal of steel
– Zirconia, with thick backing (X-Weight) for aggressive removal – works very well when flat grinding
Polishing Belts – Trizact and Scotchbrite (both by 3M)  are for smoothing and finishing steel
If you don't see what you are looking for, call, 
and they can be ordered .
| | | | | |
| --- | --- | --- | --- | --- |
| Manufacturer | Size/Material | Type | Grit | Price |
| Klingspor | 2 x 72″ Aluminum Oxide | J-Flex | 60,80 |  $5.75 |
| | | | 120 |  $ 5.00 |
| | | | 220 | $ 5.00 |
| | | | 320 | $ 5.00 |
| | | | 400 | $ 5.00 |
| | | | 600 | $ 5.00 |
| | | | | |
| Hermes | 2 x 72″ Zirconia | X-weight | 36 | $7.35 |
| | | | 50,60 | $6.85 |
| | | | 80 | $6.85 |
| | | | 120 | $6.85 |
| | | | | |
| | | | | |
| | | | | |
| | | | | |
| Hermes | 2 x 72″ Aluminum Oxide | J-Flex | 60 |  $5.25 |
| | | | 120 | $5.25 |
| | | | 180 | $5.25 |
| | | | 220 | $5.25 |
| | | | 320 | $5.25 |
| | | | 400 | $5.25 |
| Hermes | 2 x 72″ Ceramic | Z-weight | 36 | $9.25 |
| | | | 50 | $8.25 |
| | | | 60 | $8.25 |
| | | | 80 | $8.25 |
| | | | 120 | $7.75 |
| Klingspor |  2 x 72″ Ceramic | Y-weight | 36 | $11.25 |
| | | | 50 | $10.00 |
| | | | 60 | $10.00 |
| | | | 80, 120 | $10.00 |
| | | | | |
| --- | --- | --- | --- | --- |
| Manufacturer | Size/Material | Type | Grit | Price |
| 3M | 2 x 72″ Scotchbrite | Smoothing | | |
| | | Grey | Super Fine |  $43.95 |
| | | Blue | Very Fine | $ 33.95 |
| | | Maroon | Medium | $ 33.95 |
| | 2 x 72″ Trizact | Smoothing |   |   |
| | (Green Tractor Belt) | A300 | 80 | $19.75 |
| | | A160 | 120 | $19.75 |
|   |   | A100 | 180 | $19.75 |
| | | A65 | 280 | $19.75 |
| | | A45 | 360 | $19.75 |
| | | A30 | 600 | $19.75 |
| | | | | |
| | | | | |
| | | | | |
| | | | | |
|   |   |   |   |   |
| | | |   |   |
| | | |   |   |
| | | |   |   |
| | | |   |   |
| | | |   | |
|   |   |   |   |   |
| | | |   |   |
| | | |   | |
| | | |   |   |
| | | |   |    |
|   |   |   |   |   |
| | | |   |   |
| | | |   | |
| |   | | | |